There is one thing we can all agree on at the Er Group and that is good food is a way of life! As a way to explore new cities and indulge in all of the delicious food that the East Bay has to offer, we have decided to hold our team meetings at different restaurants so we can try great food and recommend the best of the best!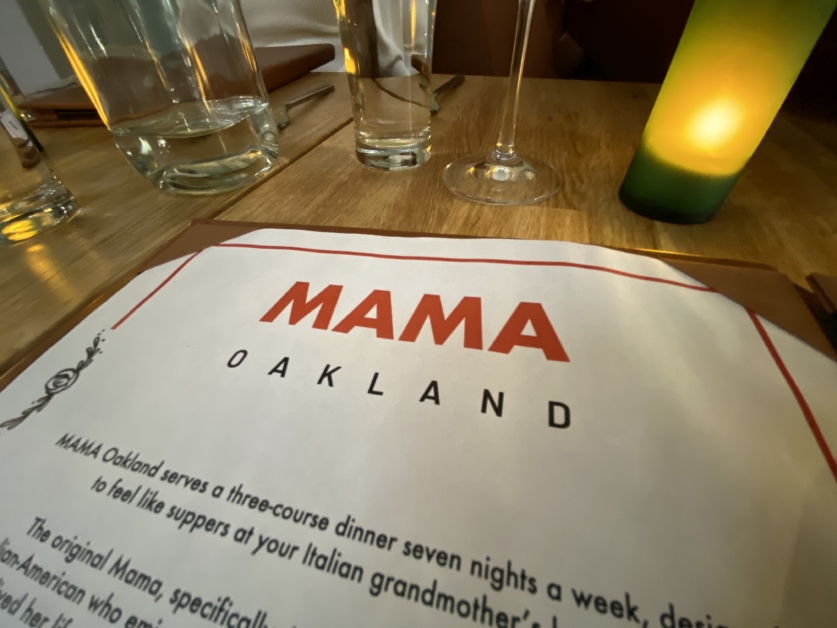 Our first destination, MAMA Oakland, is a neighborhood favorite. Located along Grand Avenue in Oakland near Lake Merritt, this Italian restaurant and wine bar was a must-try hot spot. With a three-course menu that changes weekly (and sometimes daily) based on what's fresh and in season, we were excited to break some bread and enjoy some authentic Italian food!
Excerpts from MAMA Oakland:
MAMA Oakland serves a three-course dinner seven nights a week, designed to feel like suppers at your Italian grandmother's house. The original Mama, specifically, is Maria Germano Stacionis, an Italian-American who emigrated to Rockford, IL, from the Abruzzo region and lived her life as the consummate hostess, mother and grandmother. Mama was always the first to pour you a drink, pull out a chair, and serve you up a huge bowl of pasta, laughing with a wink of mischief and absolutely delighted by your company.

MAMA Oakland exists to honor her legacy and extend the same sense of hospitality, to nurture the same sense of warmth and community—even family—that we found in her home. We believe in building relationships with and between our guests, in the power of sharing good food and beverages, and in their capacity to create opportunities for our guests to share experiences, stories, skills and laughter.

MAMA is owned and operated by Stevie Stacionis and Josiah Baldivino (also of Bay Grape wine shop): a young, passionate, husband-and-wife team who met working together in restaurants and whose fondest memories involve shared meals with friends and family. Together, Stevie and Josiah bring their decades'-long experience in hospitality—and their sense of humor, humility and knack for sincere service—to a restaurant that's not only delicious but accessible, inclusive and nourishing.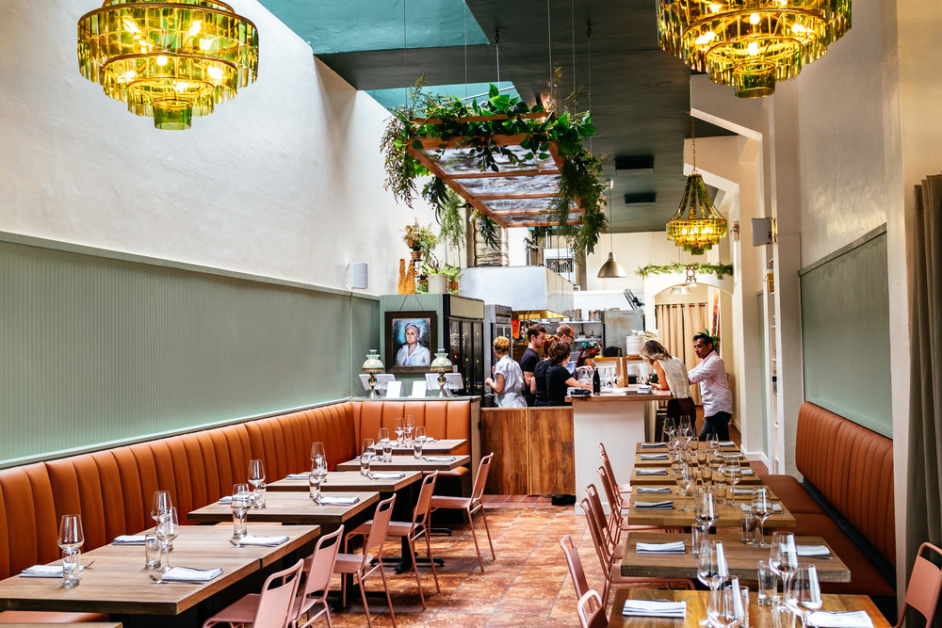 A cozy and contemporary ambience
The interior of the restaurant is ultra inviting. The small, cozy space includes contemporary decor details with lighting accents that add to the lovely ambience. The big arrangement on the kitchen's bar top made a statement with great shape and unique florals adding character to this charming little gem.
MAMA is known for their eclectic and fun wine list. As a sister shop to Bay Grape, a local wine shop located down the street, MAMA's wine list exudes character and playfulness. They use lively legend to help navigate through the list, using fun icons (e.g cassette tape for "classic") to help you choose a wine that is perfectly catered to your experience.
We started off our meal with a refreshing, mineral white wine from Sicily (Mortellito Calaiancu Grillo), the As Kneaded Bakery biroté bread (a delicious French-style baguette native to Guadalajara) with anchovies and butter, and a side of olives. The bread and butter was very good; the lemon zest on the anchovies was nice and unexpected flavor.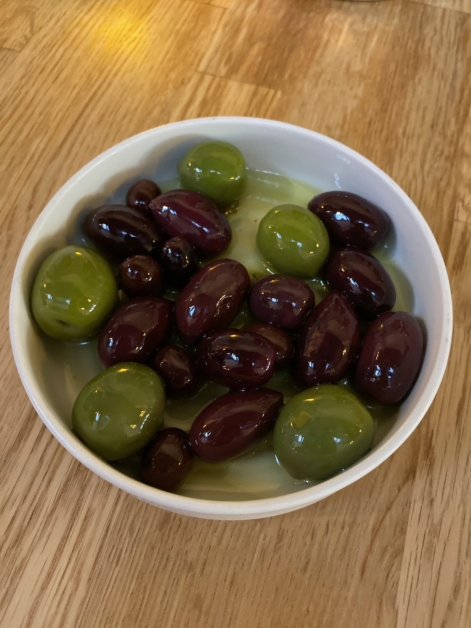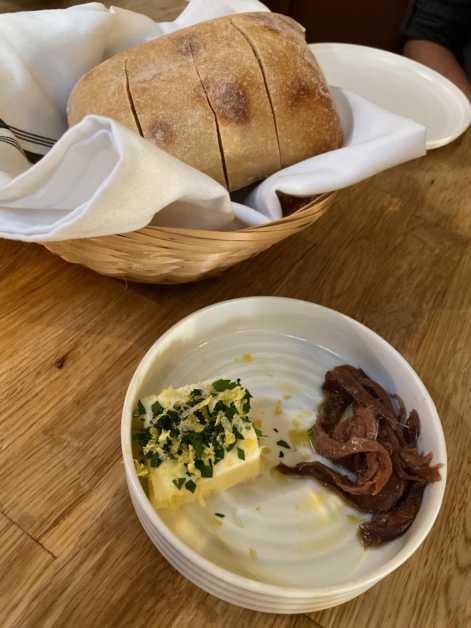 For the first course, we opted for the Tuscan kale and potato soup with crispy shoestring potatoes and smoked paprika oil. This dish was a warm, yet fresh introduction to the meal.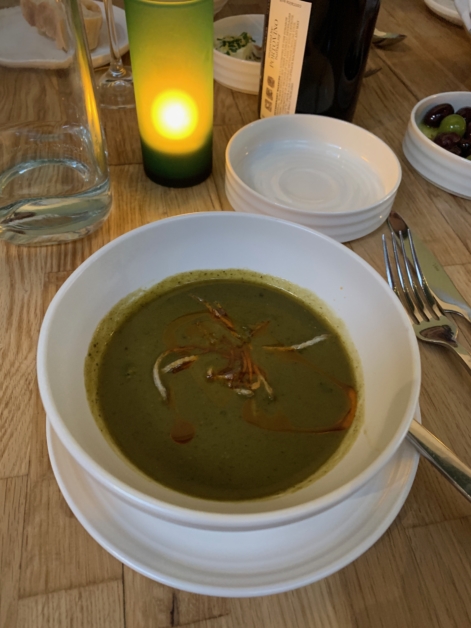 Tuscan kale and potato soup with crispy shoestring potatoes and smoked paprika oil
The next course, we indulged in a fan favorite, Mama's spaghetti. This dish includes Mama's tomato sugo, beef, pork, and Parmesan and is as hearty and delicious as it sounds. Each bite was satisfying and comforting, it really tasted like it was lovingly cooked by someone you'd call Mama! We also ordered a side of Mama's crispy pan-fried pork, beef, and Asiago meatballs for the table which were equally delicious and a great side to the pasta.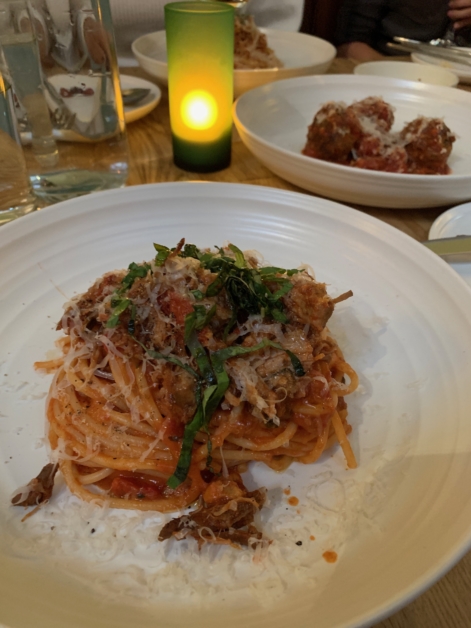 Spaghetti with Mama's tomato sugo, beef, pork, and Parmesan
For dessert, we enjoyed the polenta cake with baked apple, whipped cream and caramel corn. This seasonal treat had all the best flavors of fall and was the perfect ending to the three course meal.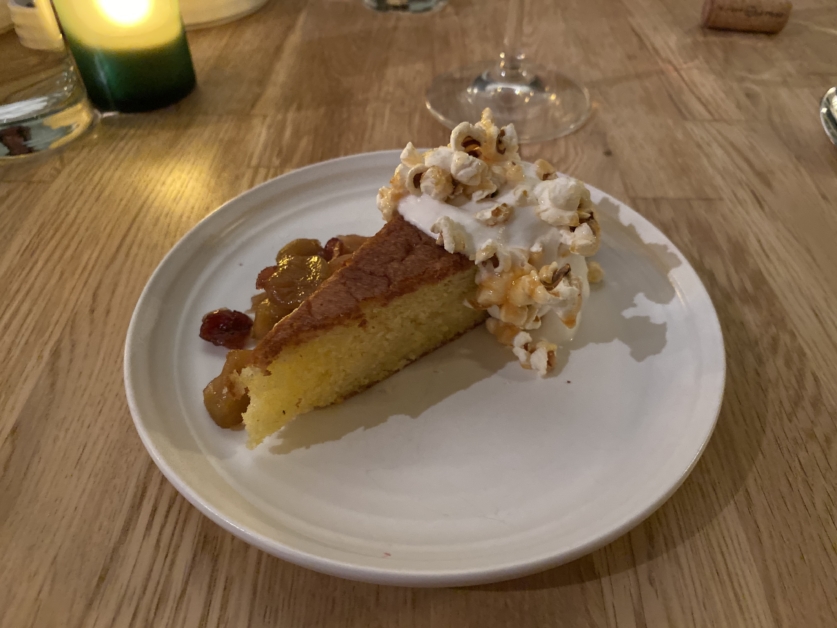 Polenta cake with baked apple, whipped cream and caramel corn
We loved the wine list so much that we decided try out a Greek red wine (Thymiopoulos "Young Vines" Xinomavro) to cap off the night and end the evening on a high note.
Accompanied by friendly service and unbeatable prices for the 3-course dinner, the entire experience at MAMA Oakland was a real treat! We do wish that the menu was a little larger–each of the three courses only has two options–but it would be ideal for a party of two if you wanted to try out each option and share.
We would definitely recommend MAMA Oakland to anyone looking for a taste of authentic Italian in the East Bay. With a great ambience and awesome wine list, MAMA Oakland has become an Er Group favorite.